When should you place an account with us?
| | |
| --- | --- |
| | Debtor is rude and will not work with you. |
| | Debtor does not return your calls for payment. |
| | Mail to Debtor is returned or phone is disconnected. |
| | Payments are not made within terms. |
| | Debtor makes repetitious or unfounded dispute claims. |
| | Debtor denies responsibility. |
| | Broken promises. |
| | Debtor is a skip. |
| | Does not return calls. |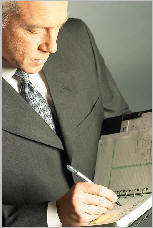 INCREASE YOUR CASH FLOW ON PAST DUE ACCOUNTS!
How many times this year have you heard: The check is in the mail" when it really isn't?
While the idea of paying a fee to a collection agency may seem expensive, can you REALLY AFFORD not to? Isn't it better to recover the majority of your money than risk a complete loss?
We know that you can collect the vast majority of receivables yourself. However a good collection agency is a tool every successful business should have at its disposal.